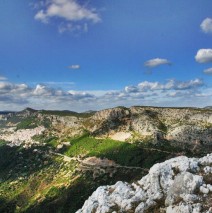 The land
Baunei
Baunei is a land of incredible green and blue (landseapes), where the north-west wind brings us the music of "Su Ballu Tundu" and evokes histories of peoples told by (annoying) elderly men near a millenary oleaster.
In Baunei the ancient traditions are the frame of every day life, you feel, you love it. Situated at the height of 480 meters has a territory that in (addition) of beiny very broad with limestone houses 40 km of costeline, wild beaches and poignant creeks like "Cala Goloritzè" white pearl among the green of the landscape and the blue of the sea. National Monument since 1995.
I imagine "you walking on the beach with your chin high on the towering white green stained cliffs, on the main trail of fragrant herbs, or riding at the sound of hoofbeasts, completely immersed in the harshest Mediterranean flore inherited by peoples of shepherds who have been able to protect it and give it back intact. The town is crossed by the road "125" favourite destination for enthusiastic motorcyclists from around the world and houses in the historical centre a church dedicated to S. Nicola di Bari.
Santa Maria Navarrese
At only 8 km an amphitheater of hills and mountains we find Santa Maria Navarrese.
Although small and (unpretentros-senza tante pretese) it is a place of holiday where in the warm summer evenings you can easily reach in a few minutes walk restaurants, bars where you can have pleasant evenings and joke with friends.
The Marina
Opened in 1998, is located in a geographic area among the mast attractives of Sardinia. Here you may find kindress and competence together with right prices and becomes a safe confort and friendly place to spend part of your holiday.
Mountains
Men seek mountains even now that they could live without them. They feel the need to return to those areas that were previously a source of livelihood but also of suffering and fatigue. To enjoy the mountains with men that have turned their passion into a profession is the most intelligent and safest way to discover those places that are often at the margins of the most popular routes.
The "Supramonte" is of unparalleled beauty, and natural wild life has several trails that require a cautious approach due to its shape the wildest in the Italian territory. The great capacity of its people has meant that today we can enjoy unspoiled, ancient and unchanged landscapes.
Qualified guides will go with you to various locations where you will be able to see on your way back to nuragic settlements (about 120), tombs of Giants (about 20) and sanctuaries.
Beaches can be reached by land or by sea through ancient mule tracks, starting from the little port of S.M. Navarrese and along beautiful stretches coastline.
Accomodation in Baunei – Bed & Breakfast in Baunei – B&B a Baunei – Holiday in Baunei – Hiking in Baunei – Excursions in Baunei – Bed and Breakfast Baunei