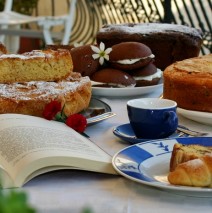 Bed and Breakfast in Baunei
The Breakfast at "I Cinque Mori" B&B  in Baunei
B&B has a rich and well stocked breakfast. The fifth moro will be able to offer you (nudying) classics of an Italian healthy breakfast: coffe, cappuccino and coffe with a dash of milk, fresh bread butter and (sam), and afterwards several delicacies made ready by the housewife.
People say that breakfast is the main meal of the day, and surely is more than that for a tourist that has to face a day and visit beautiful places of our country.
When we talk about breakfast at B&B the fifth moro we mean a rich continental buffet alternating with genuine products of our territory if required.