Quante notti ti fermi a Baunei?
Ecco alcuni suggerimenti per una vacanza "attiva" in Sardegna!
One night stay:
Golgo visit. A few kilometers from the town we find a world equal to itself since the dawn of time. In addition to the rural church dating from the fifteenth century and the deep chasm of "Su Sterru" you will appreciate the many testimonies of the period nuragic (giants' tombs, holy wells, nuraghi ..)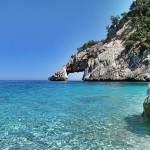 Two night stay:
First day: Golgo visiting and hiking enthusiasts visiting Cala Goloritzé '.. Monument and pearl of Ogliastra  is the most famous beach, however, can only be reached by land.
Second day: Grotta del Fico visit, until the 80 refuge of the monk seal. Is the Grotta del Fico where boat tours departing from the port of Santa Maria Navarrese.
Three night stay
First day: Golgo visit and Cala Goloritzè.
Second day: hiking and off road. Goloritzè cooperative will give you the opportunity to meet not only with nature but also with the man .. its history .. its work ..
Third day: Quad trip. Our guides will lead to the discovery of the most evocative, by golgo to Eltili valley, the beautiful beaches of Cala Luna, Cala Sisine and set Goloritzè ….
News