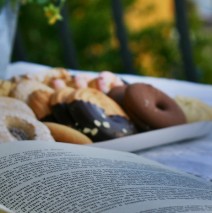 Bed and Breakfast Baunei
Looking for a B&B in Baunei?
"The Five Moors" B&B is situated in Baunei, on the East Coast of Sardinia in the center of the very beautiful Gulf of Orosei.
We chose this name owing to the fact that our family is made up by four people "All named Moro" and we want "symbolically" offer to people who decide to choose our B&B a hearty and friendly welcome.
B&B is situated on the particular and steep historical centre of the tawn, in an ancient (neighbourhood) "Sa Succargia".
Hospitality is offered in a flat with two wide double rooms furnished with simpleness.
A wide bathroom and its daily cleaning is made in the morning from 10.00 to 12.00 or in the afternoon from 4.30 to 7.00.
Any way people can choose between tee two possibilities. B&B has a wide hall where you can spend a "relax" in front of TV and of a little terrace where you can read….
Services offered to our clients:
• Washing machine;
• Phon;
• House hold linen;
• Heating;
• Breakfast;
• Livingroom and TV;
Services that are not included in the price:
•    Wireless connection E 2 a day;
•    Breakfast with some typical products of Ogliastra from E 8.
Accomodation in Baunei – Bed & Breakfast in Baunei – B&B a Baunei – Holiday in Baunei – Hiking in Baunei – Excursions in Baunei – Bed and Breakfast Baunei